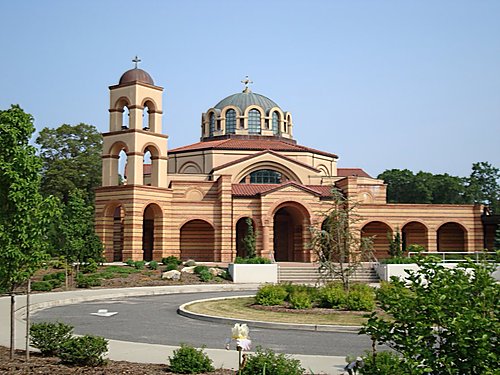 Welcome
"The Assumption of the Theotokos, after which our church is named, reflects the pinnacle of our Faith. Orthodox Christians who gather in a church dedicated to the Assumption are therefore special bearers of that same Faith. Always remember the meaning of the Assumption and like the Theotokos, always strive to do God's will".
We are honored that you have visited our website. As a religious organization, we are always striving to find new ways to get our message out to our current and prospective members. This web site allows us to reach people we may have never been able to contact before.
Please use this website to access the information you need about the church and as a resource for broadening your Faith. We look forward to hearing from you to answer any questions you may have.

Christmas 2019 and New Year 2020 Program
SUPPORT OUR CHURCH EVENTS AND PROGRAMS
Dates & Times for our Organizations
Greek School: Meets Tuesdays at 5:00 pm
Sunday School: Meets Sundays at 10:00 am
GOYA: meets Wednesdays at 7:00 pm
Rythmos Dance Group: Meetd Friday at 7:00 pm
Little Angels: Meets Sundays at 10:00 am
Altar Boys: Every Sunday during Church Services
Men's Basketball: Meets Mondays at 7:30 pm
Please call our office for more information on joining our Organizations.
Sundays: Orthros (Martins): 9:00 AM | Divine Liturgy: 10:00 AM
Weekdays: Orthros (Matins): 8:00 AM | Divine Liturgy: 9:00 AM
Summer Hours: Orthros: 8:00 AM | Divine Liturgy: 9:15 AM | Starting June 26th
For information please contact the Church office at (631) 473-0894 between the hours of 9:00 AM - 5:00 PM, Monday through Friday.